Thank you for working with EPI for your school supply program. This page provides you instructions on how to return any unsold packs to EPI.
As always, if you encounter any issues, please contact your EPI rep ASAP. This is so we can resolve your issues quickly.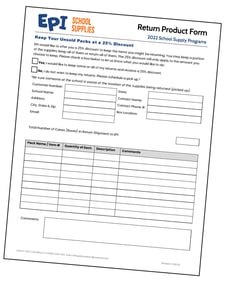 Downloadable Return Product Form
Note: Save file on your computer before editing.
EPI Return Policy
Any unsold School Supplies being returned are subject to the following:
Your return product form must be received by September 15th. If your return product form is received after September 15th you will be charged a 5% processing fee regardless of the amount returned.

No returns will be accepted after October 1st.

You will be responsible for 100% of the freight charges on any returns.
Any customer returning over $750 in product, you will be assessed a 5% processing fee.

Any bulk items not returned with their pre-packs (i.e. binders, paper towels, tissues, etc) will be deducted from your return credit.
NOTE: You do not pay freight charges at the time of pickup. EPI will subtract the freight charge from your return credit. All discounts will be adjusted for any returned school supplies.
Keep Your Unsold Packs at a 25% Discount
EPI would like to offer you a 25% discount to keep the items you might be returning. You may keep a portion of the supplies, keep all of them or return all of them. The 25% discount will only apply to the amount you choose to keep.